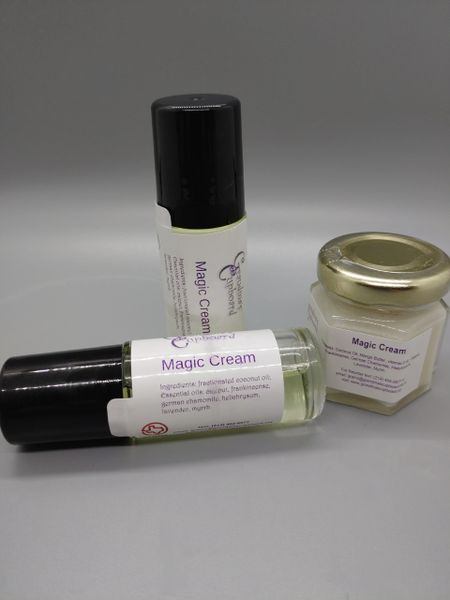 Magic Cream is a skin care cream originally designed for after insect bite care.  It reduces itching, stinging, and swelling that result from insect bites - including fire ant bites. Use as often as needed for relief. However, it is also extremely effective with heat rash, dry skin, kitchen burns and a variety of other skin irritations. A few of my customers have even told me it helped their eczema! The jars are 1.5 oz, which may seem small, but a little bit goes a long way and one jar can last 6 months or longer.
Ingredients: coconut oil, cocoa butter, and beeswax.  Essential Oils: cajeput, frankincense, helichrysum, lavender, myrrh, german chamomile.
This now also comes as a liquid in a convenient, no-spill roller ball applicator bottle.  You can now take it with you wherever you go and don't have to worry about any melting or spills.